When you select the button START CREATOR, a selection of basic shapes is displayed from which you can choose a shape. You can then configure the cabinet step-by-step.
Step 1: Main settings
Step 2: Carcase
Step 3: Equipment
Step 4: Fronts
By clicking on the "Next Step" and "Previous Step" buttons at the bottom right of the screen, you can switch between the individual steps. Alternatively, you can also use the buttons above the 2D/3D display.
To change entries, switch to the corresponding step (e.g. equipment) and select the assembly to be changed in the graphic.
During steps 1 to 4, the configured cabinet can be "saved as draft" at any time. It is then saved in your own library as a template and can be called up again at any time from there via MY DESIGNS and fully configured.
After step 4, the configuration is complete. The "To connector selection" button appears.
If all fittings and connectors are known, the cabinet is saved as an order. A selection menu appears in which you can select an existing order or create a new order.
If fitting situations are still undefined, the "Fitting selection scan" starts and searches for the components where fittings or connectors are still missing. There you can select the manufacturer and the app suggests the suitable fittings. After all fittings have been completely assigned, the "Save configuration" button appears and the order can be created.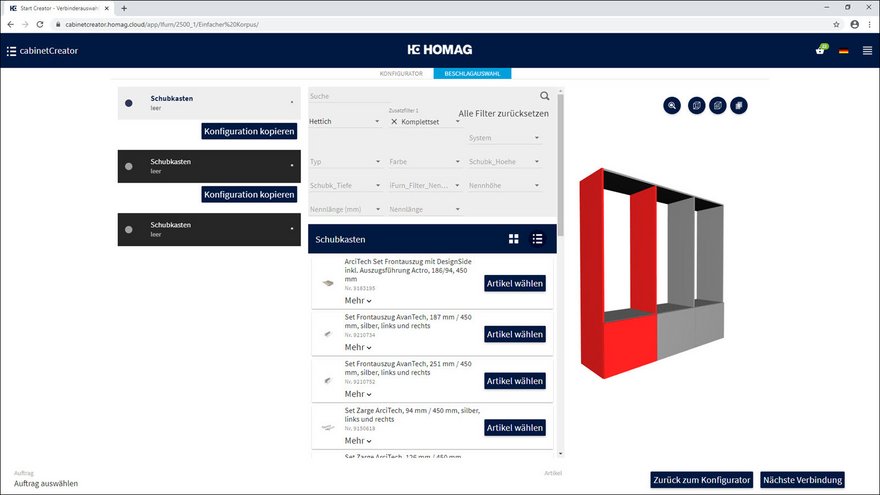 In the last step you create the production data. In the article overview, all cabinets belonging to an order are displayed. Via the menu on the right side you can create the following data or documents for each article by clicking the button "Further actions":
3D preview
CNC data
Fittings list (PDF)
Fittings list (CSV)
Parts List (PDF)
bill of material (CSV)
Drawings (PDF)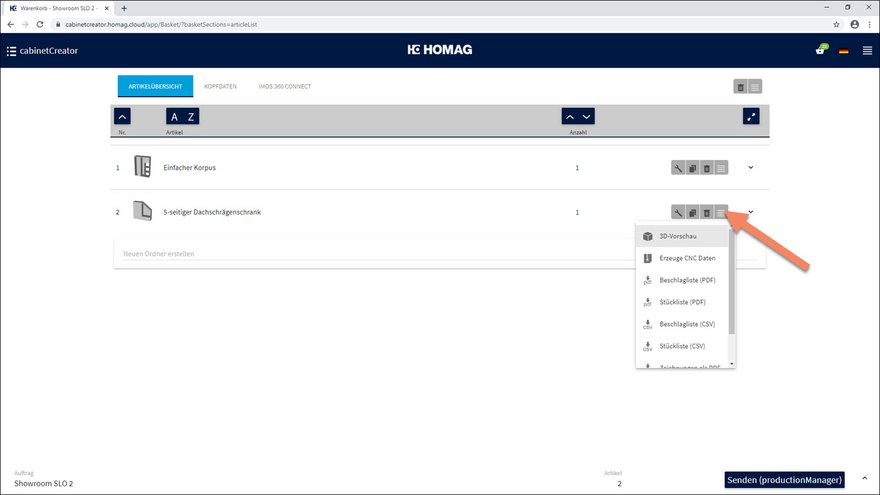 A menu also appears above all orders. Using this menu, you can create the following data and documents for all articles in an order:
Fittings list (PDF)
Fittings list (CSV)
Parts List (PDF)
Bill of material (CSV)
Download order (ZIP)