Our sorting assistant supports you with the sorting of components in the workshop. In this way, you always have an overview of the furniture parts for which processing has already been finished and which are complete for assembly, packaging or further processing. The components can be pre-sorted on two levels (2.5 m and 3.0 m) for assembly in the workshop.
Scope of delivery
The following components are included in delivery:
Two apps: "productionAssist Sorting" (production assistant for sorting) & "productionManager" (digital job folder)
Construction set for the "productionRack Sorting" sorting rack, available free to download
Two LED strips for the sorting rack
HOMAG CUBE (intelligent control box for connecting the rack to the Internet and the apps)
Installation Guide #BuildYourSolution
Install the individual components of your product set as described in the operating instructions and start commissioning.
Learn more about the hardware requirements!
Technical requirements
What requirements do I need for the Sorting Production Set? What do I need to prepare?
You need a tablet to operate the app at the sorting rack. You can see here if your device is suitable.
Near the sorting rack you need an internet connection (LAN socket) to connect the HOMAG CUBE and therefore the label printer to the internet.
For the tablet you need WLAN in the area of the sorting rack.
You need a 230V power connection with a multiple socket (at least 4 sockets).
You can request a quotation for the Sorting Production Set from the HOMAG eShop.
You can build the tablet holder yourself to mount the tablet to your sorting rack. You can find the construction plans here.
You also need a tapio account to unlock your licenses. You can see how to proceed in the registration section.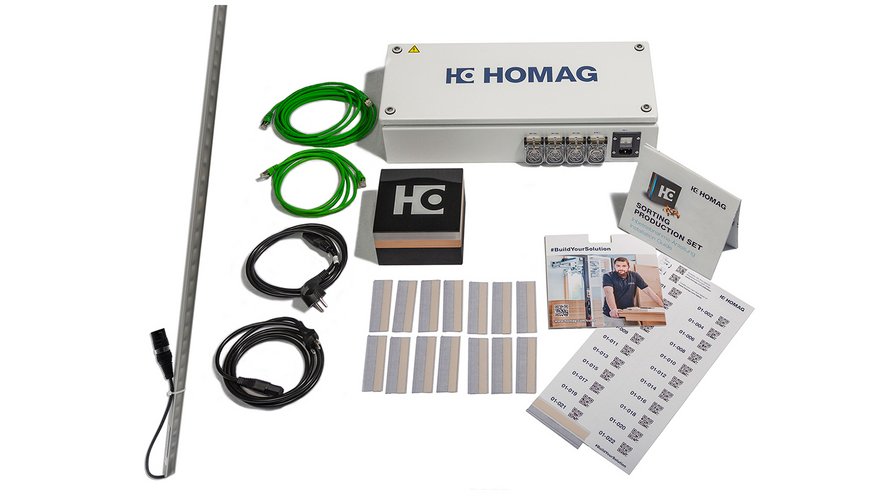 Operation Guide & Safety Instructions