Construction plans for productionRack Cutting
The "Cutting Production Set" also includes construction plans for a carcase and mounting bracket with which you can mount the HOMAG CUBE, printer and tablet on your saw. You can download all related data under the download link on the right side (Download construction plans). If you want to integrate the components into an existing solution, take a look at the mounting dimensions.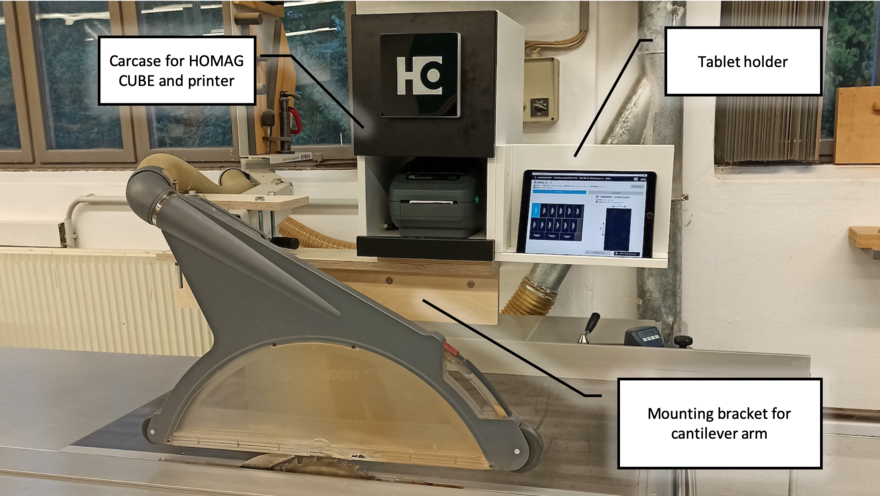 The construction plans consist of:
Carcase in which the HOMAG CUBE, printer and power supply units are installed
Optional: A self-made tablet holder, which can be attached to the carcase with screws
Optional for sliding table saws: A bracket made of 18mm multiplex plywood which can be attached to the extension arm for the dust extraction hood. It is screwed to the cantilever arm with M10x200mm screws or threaded rods. Afterwards the carcase can be screwed to it.
Please note that the construction plans are designed for a panel thickness of 16mm for the carcase, 19mm for the front and 18mm for the mounting bracket.
Click here for more details on mounting the components on your saw.
Conditions for the use of the construction plans
The construction plans were drawn up to the best of our knowledge and with due regard to professional concerns. Despite careful checking, errors may occur in connection with your machine and software settings, for which HOMAG cannot accept any liability. In addition, safe installation on the machine must be checked individually. By downloading, the customer undertakes to check the construction plans for possible errors and is responsible for the use of the construction plans and CNC programs and the resulting products.